China's economic expansion held up amid robust consumer spending, underpinning global growth and giving authorities more room to purge excessive borrowing.
Steady growth offers support for President Xi Jinping's mission to shore up financial stability, one of Beijing's top goals along with reducing poverty and curbing pollution. The robust pace of expansion is a tailwind for the global economy seen maintaining its solid performance this year, providing needed support in the form of strong demand for China's exports.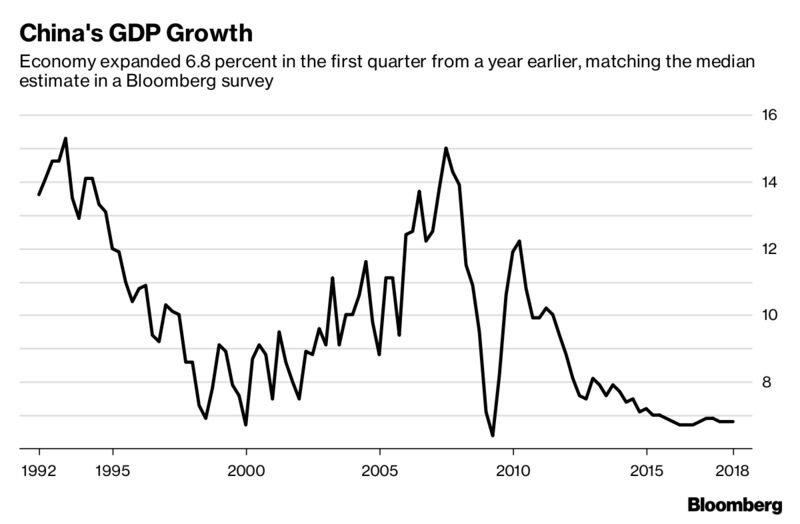 "Economic indicators are robust," Xia Le, chief Asia economist at Banco Bilbao Vizcaya Argentaria SA in Hong Kong, said before the release. "Growth headwinds remain in place, mainly from domestic policy tightening and trade skirmishes from the U.S. Growth is most likely to moderate through the year."
Gross domestic product grew 6.8% in the first quarter from year earlier
That matches both the previous quarter's pace and the projections in a Bloomberg survey
Retail sales increased 10.1% in March from a year earlier, vs a forecast of 9.7%
Industrial production rose 6.0% last month; forecast 6.3%
Fixed-asset investment climbed 7.5% in the quarter
A new urban surveyed-jobless rate stood at 5.1% at end-March
People's Bank of China Governor Yi Gang last week said economic indicators performed better than expected in the first quarter amid continued improvement in the global outlook.
Headwinds may strengthen in coming months should Xi's so-called critical battles against financial risk and pollution bite deeper or if trade tensions with the U.S. intensify. Property and infrastructure activity will weaken in the second half, though manufacturing investment, solid consumption and strong external demand will cushion the impact, says UBS Group AG.
Read more: http://www.bloomberg.com/news/articles/2018-04-17/china-economic-growth-remains-robust-amid-strong-retail-sales